JLP
134
NDM
0
PNP
94
UPP
0
IEWFIPP
0
IND
0
REP
0
Overall Votes

Jamaica Labour Party
263563
National Democractic Movement
44
Peoples National Party
239189
United Peoples Party
0
Imperial Ethiopian World Federation Party
0
Independents
498
Republican
0
Kingston and St. Andrew
23
17
St. Ann
8
8
St. Thomas
8
2
Portland
7
2
St. Mary
10
3
Trelawny
7
2
St. James
13
4
Hanover
2
5
Westmoreland
0
14
St. Elizabeth
8
7
Manchester
6
9
Clarendon
17
5
St. Catherine
23
17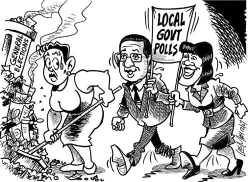 Video: Junior Mayors discuss the issues

Watch the Junior Mayors of Jamaica discuss some of the most pressing community issues across the nation. They recently attend a forum held at the Gleaner Company, during Youth Month in November. http://www.youtube.com/watch?v=5fdAj23uKek What are...




Recovering 'Rosie' defends Rae Town


Relaxing at home yesterday, clad only in a green T-shirt, the injured Jamaica Labour Party (JLP) Councillor, Rosalie Hamilton, was still recuperating ...
Electronic voting malfunctions

Glitches with the Electronic Identification of the Voter and Ballot Issuing System (EIVBIS) yesterday caused long waiting periods for electors who turned ...
Bored election-day workers

Outdoor agents for the People's National Party relax during yesterday's slow local government election-day activities at the ...