JLP's Witter to blow Horne off course in South East St Elizabeth


Although the momentum favours the Jamaica Labour Party (JLP), a tight race is expected next week for the South East St. Elizabeth constituency. more

'Youth must vote'


YOUNG Jamaicans are being encouraged by their peers in politics to exercise their franchise on election day, September 3. more

'We need more jobs for the young people'


While many young people seem unconcerned about the possible fate of the JLP's Franklyn Witter and the PNP's Norman Horne, there was no reluctance when it comes to outlining the needs of the constituency. more

A maturing electorate


When the time for the election began to draw nigh, and I began to call for the manifestos from the political parties, I was told that it was not normal for manifestos to be released so early. more

Polling Jamaica style


MY HILLSIDE view has always deceivingly painted Kingston a tranquil and simple city. more

Manifestos on education lack substance - Jamaica Teachers' Association (JTA)


The Jamaica Teachers' Association (JTA) yesterday likened the manifestos of the main political parties on education, to cheese trix, claiming that they lacked substance more

Security forces, election workers vote today


Members of the security forces and election day workers go to the polls today to cast their ballots in the country's 15th general election since Adult Suffrage in 1944. more

Douglas in tough fight to retain seat


OLD FOX Harry Douglas, who had announced that he would not be seeking re-election after four terms as Member of Parliament for South East St. Mary, is facing an unceremonial exit from politics, according to a recent Gleaner-commissioned Bill Johnson poll. more

Residents say South East St Mary is heading in wrong direction


IF HARRY Douglas is depending on the 'Portia factor' to take him to victory in South East St. Mary next week, he may want to reconsider. more

Who is eligible to be in Parliament?


Last week, Lisa, a letter writer, responded to my article 'Foreign allegiance in Parliament?' (August 21) by claiming that persons who have sworn foreign allegiance to another country could be loyal to Jamaica. She also added that there was an instance in more

Did Portia flip or flop?


Prime Minister Portia Simpson Miller had her first real national crisis to deal with in the aftermath of Hurricane Dean and the question is whether she flipped or flopped. more

Portia still ahead in personality contest



WHILE THE Jamaica Labour Party has chopped away at the People's National Party (PNP) lead in popular support, with both organisations now neck and neck, Prime Minister Portia Simpson Miller is still well ahead more

Is 'Dean' the final blow?


I am no to any political party and so I view things objectively. I have watched, with interest, the ascension of Mrs. Portia Simpson Miller to the position of president of the People's National Party (PNP) more

DEAD HEAT! PNP, JLP locked in a tussle a week away from election day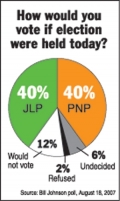 Hurricane Dean approached the island a week ago, the electorate was at a crossroad about which party should form the next government. more

Political campaigning to resume - ECJ commends Cabinet for early election date


Jamaicans should brace themselves this week for an increase in election campaigning after a lull due to the passage of Hurricane Dean. more

Page: 1 2 3 4 5 6 7 8 9 [ 10 ] 11 12 13 14 15 16 17 18 19 20 21 22 23 24 25 26 27